Issue 15 - January 25, 2004
Back to newsletter archive
We have two new patterns!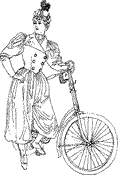 Pattern 93: 1894 Bicycle Dress with Gaiters

Ladies were becoming more and more active in sports during the 1890's. Riding the wheel was a popular sport that everyone enjoyed. Conventional dress would have been inappropriate for ladies on bicycles. New articles of clothing had to be designed, and so the Bicycle Dress appeared on the scene. The outfit had Turkish trowsers made with such fullness that one would think it to be a skirt. They were wide at the bottom and drawn up to fit around the leg below the knee. The lower edge draped over gaiters. A short jacket is buttoned over a vest. Our 1894 Bicycle Dress fits Lady Marion, Lady Kathryn, and Fashion Plate Doll, and other 24 inch Lady Dolls with slender waist.


Pattern 104: 1940's School Dress

This pattern can be used for the Front Porch children, and fits the American Girl Doll as well. There are three sizes in this pattern: sizes to fit 20 inch, 18 inch and 11 inch dolls.

Thank you for subscribing to our newsletter, and for your interest in our patterns and molds.
If you don't want to receive any more of our newsletters, please click here to unsubscribe.

Lincoln Mold Company
2554 Mansfield Drive
Des Moines, Iowa 50317
http://lincoln-mold.com
voice: 515-266-6432
fax: 775-628-9185
Home | Gallery | Our Store | Newsletter | In the Media
Shipping | Contact Us | Privacy | Security | Testimonials | Links

Lincoln Mold Company
2554 Mansfield Drive, Ste 1
Des Moines, Iowa 50317
voice: 515-266-6432
fax: 775-628-9185
send us an email message

Copyright 2004 Lincoln Mold Company. All rights reserved


Website designed and Maintained by Dan & David Bailey